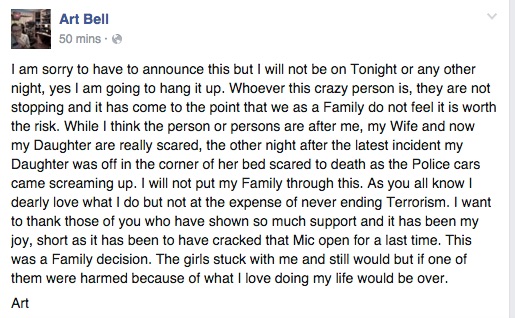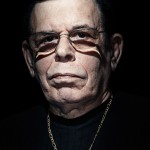 We are very sad to hear that Art Bell has just declared that he is hanging it up for good.
Art's claims
If you are a listener of Midnight in The Desert, such as I, you would have heard about some nut with a rifle firing off rounds near his studio during one of his shows on October 21st. Then on November 23rd,  Art was walking out into his back yard and saw a crouched figure by his studio. He got his own gun and was aiming it toward the intruder and it really shook him up. The final straw was on December 9th, and here is the public report:
On 12/09/2015 at approximately 2006 NCSO Dispatch received a 911 call from the wife of Art Bell reporting that he was out walking on the property and he had called her from his cell phone to tell her someone had shot at him and then he stopped responding. NCSO Deputies responded and checked the area. Art Bell was located laying on the ground of his property with no injuries. He reported to responding deputies that he was not sure if the noise he heard was a firework or gunshot. Deputies did a thorough check of the area and located no one and also did not locate any evidence of gunshots. Deputies maintained extra patrol in the area over the remainder of the week however nothing was discovered. At this point the investigation is closed unless further information is discovered.
We can only hope that when he leaves the airwaves, the stalker will loose interest. It really makes you wonder what kind of unbalanced mindset someone could possibly have to do this to Art for Midnight in the Desert. He and his family made the decision together as they are very scared, and who can blame them?
At this time, we are not sure what will happen to Art's Dark Matter Digital Network where we run our live shows.
Art Bell had laid the groundwork for shows like ours and many more. We personally want to thank him for all that he has done to make the world a little more mystical and better.
Art, we will miss you a lot, and may the Force be with you!
Martin Willis & the Podcast UFO Crew
Read more: http://artbell.com/art-hangs-it-up-for-the-last-time