Longtime researcher, Jacques Valee did an "Ask Me Anything" on Reddit today.
Excerpt: I am Dr. Jacques Vallée a computer scientist and former astronomer. I have dedicated my personal research to the scientific research of UFOs. I was the model for the French scientist in Steven Spielberg's "Close Encounters". AMA!
Hi Reddit!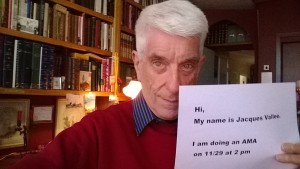 I'm excited to be here with you all today and to answer any questions you may have. Here is my proof:http://imgur.com/WxbXLoJ
Recently my investigations have focused on UFO sightings from ancient antiquity up to the Industrial Revolution – prior to the innovation of manmade vehicles for flight that can cause confusion when witnessing a UFO. I have worked with my colleague Chris Aubeck on my recent work and we will soon be publishing what we consider the new benchmark in UFO research – called Wonders in the Sky. Our larger goal is to set the groundwork for future researchers (Maybe that's YOU) by identifying and conserving primary source documents. We want future researchers to continue UFO investigations as part of mainstream science.