by Michael Lauck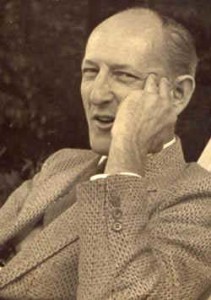 Well known in the UFO community as an author and as the director of NICAP, Major Donald Keyhoe was a Marine pilot and established author well before the flying saucer craze of the late 1940s. He authored several books on unidentified flying objects, including the classic Flying Saucers Are Real. Although his experience in the aviation field and Pentagon contacts gave him a certain amount of authority, his detractors pointed to some of his other writings to discredit his work.

Military Aviator
Keyhoe was born in 1897 and after high school attended the United States Naval Academy. He entered the Marine Corps and worked as a pilot. In 1923 he was involved in an accident in Guam and during his rehabilitation after the airplane crash Keyhoe first began to write. Although he briefly returned to service, permanent damage to his arm led him to retire from the Marines in 1924. Despite his injuries Keyhoe would be recalled to active duty during World War II. Serving as part of the Naval Aviation Training Division, he was stationed at the Pentagon. When World War II ended Keyhoe again retired from the military as a Major.
Flying With Lindbergh
After leaving the military the first time, Donald Keyhoe joined the Aeronautics Branch of the Department of Commerce. During his work with this precursor to the FAA he rose to be their Chief Information Officer. When Floyd Bennett was believed to have flown over the North Pole with Admiral Byrd in 1926, a tour of the pilot and his plane, known as the Josephine Ford, was organized by the DoC Aeronautics Branch. Eventually, examinations of Byrd's diaries would prove that the men had not flown over the pole. However, this was not discovered until many years after Bennett's death from pneumonia in 1928 while attempting to rescue a stranded flight crew. Thanks to the success of the Bennett tour, Donald Keyhoe was selected to manage the tour of Charles Lindbergh and The Spirit of St. Louis after the young pilot completed his solo flight across the Atlantic. Keyhoe wrote of his experiences on the DoC Aeronautics Branch tour in a book called Flying With Lindbergh in 1928.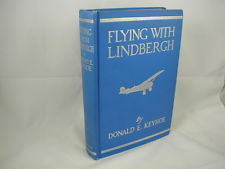 Keyhoe's book was very successful. He was soon able to support himself solely as a freelance writer, specializing in aviation stories. Even before Flying With Lindbergh, though, Keyhoe had sold several fictional aviation stories to pulp magazines such as Weird Tales. While he often wrote for serious publications on aviation matters Keyhoe continued to write pulps adventure stories as well. Many were stories of aircraft, published in magazines such as Dare-Devil Aces, and he also wrote non-aviation fiction. For example, he wrote the featured stories in all three issues of Popular Publications' "yellow peril" magazine Dr. Yen Sin.
Confronting the Flying Saucers
When the Kenneth Arnold inspired wave of saucer-mania struck, the editor of True turned to Donald Keyhoe for help sorting it all out after inconclusive and contradictory statements from the government. True was technically a men's magazine, but not in the same vein as Playboy and other publications that would be described by the phrase. Starting publication in the late 1930's, True was aimed at male readers, carrying a mix of news related content, profiles and adventure stories. It ran through 1974 and even briefly had its own television show in the 1960s. Keyhoe had written articles for the magazine before and it was thought that with his aviation expertise and Pentagon contacts he would be able to get to the bottom of the mystery.
[embedplusvideo height="340″ width="600″ editlink="http://bit.ly/19kfiAY" standard="http://www.youtube.com/v/lb1OLK4fULw?fs=1″ vars="ytid=lb1OLK4fULw&width=450&height=200&start=&stop=&rs=w&hd=0&autoplay=0&react=1&chapters=&notes=" id="ep2242″ /]
The resulting story was titled Flying Saucers Are Real. In it Keyhoe opined that not only were saucers controlled by extraterrestrials, the U.S. Air Force knew the truth. The story drove record sales for True and inspired Keyhoe to expand the piece into a full length book with the same title. Arguing that atomic testing had attracted the attention of alien observers, the book sold over half a million copies. The book would make Major Donald E. Keyhoe one of the most recognized, and respected, UFO researchers in the world.
Still, Keyhoe was not without his critics. Earlier fictional stories about pilots with ESP and such were pointed out by detractors. They maintained that his rich imagination was the basis of his conclusions, not real information. Keyhoe was undeterred, though, and focused on the flying saucer enigma for the rest of his career. In 1953 he released a second book on the subject, Flying Saucers From Outer Space, which featured information from the Air Force itself and even included statements from Albert Chop, famous in UFOlogy for his connection to the 1952 UFOs over Washington DC incident.
In 1956 Keyhoe helped to found the National Investigations Committee on Aerial Phenomena (NICAP). He became its second director in 1957 and continued in this capacity until late 1969. Under his guidance the group published The UFO Investigator, its monthly newsletter, and books such as The UFO Evidence. He also attracted high profile personnel such as ex-CIA head Roscoe Hillenkoetter and retired general Albert C. Wedemeyer. Keyhoe also participated in many interviews and speeches as the head of NICAP and a well known author on the UFO subject, including an infamous incident on the Armstrong Circle Theater television program, in which his audio was cut during the broadcast.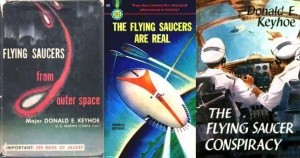 Keyhoe's last book, Aliens From Space: The Real Story of Unidentified Flying Saucers, was published in 1973. He would eventually join the board of the Mutual UFO Network, although he was in poor health at the time. Keyhoe passed away in 1988 at the age of 91.
For Further Information
NICAP's official website, http://www.NICAP.org
Richard Hall's Donald Keyhoe Archive, http://cevsite.com/keyhoe.htm
Non-fiction Books by Major Donald E. Keyhoe:
Flying With Lindbergh, 1928
Flying Saucers Are Real, 1950
Flying Saucers From Outer Space, 1953
The Flying Saucer Conspiracy, 1955
Flying Saucers: Top Secret, 1960
Aliens From Space: The Real Story of Unidentified Flying Objects, 1973
Collections of Major Keyhoe's Fiction:
The Vanished Legion, 2011
Captain Phillip Strange: Strange War, 2011
Captain Phillip Strange: Strange Enemies, 2012
The Complete Adventures of Richard Knight Volume 1, 2012