Simulcast, YouTube Live Streamed and on KGRA Radio Tuesday, November 26th @ 6:00PM to 8:00PM ET (GMT-5)
Screenwriter – producer, author – journalist, Bryce Zabel's website: https://whatifufos.com
Creator of Five Produced Primetime TV Drama Series
Individual Winner: Writers Guild, Sidewise Award for Alternate History,
Series Winner: Emmy, Gemini
Chairman/CEO of the Television Academy
Writer of a #1 Box-Office Film
Adjunct Professor at USC School of Cinematic Arts
Member of DGA, WGA, SAG
On-air Anchor/Reporter for CNN, PBS, NBC
CNN correspondent-turned-screenwriter Bryce Zabel has created five primetime network television series and worked on a dozen TV writing staffs. A produced feature writer in both live-action and animation, he has written and produced for nearly all major networks and studios and collaborated with talents like Steven Spielberg, David Kelley and Stan Lee on projects that include series, video-games, comic books and web content.
In 2008, Bryce (with his wife, Jackie) received the Writers Guild of America (WGA) award for writing his third four-hour Hallmark mini-series, Pandemic. He has received credit on produced films and miniseries that include Atlantis: The Lost Empire, Mortal Kombat: Annihilation, Blackbeard, and NBC's primetime The Poseidon Adventure. He wrote Syfy's first original film, Official Denial, and the first film in the Unsolved Mysteries MOW franchise, Victim of Love. He has also worked for ABC, CBS, FOX, HBO, Showtime, SONY, Warner Bros., 20th Fox, Universal, USA, Animal Planet, etc.
Bryce's Stellar Productions continues to focus on optioned material inspired by true stories. The Last Battle, about the final week of World War II in Europe, based on a New York Times bestseller, will be produced in Europe by Endurance Media in the summer/fall of 2018. Stellar and Gotham (The Maze Runner) have partnered to produce Captured, about the first reported alien abduction dating back to 1961. Let's Do It, about Cecil B. DeMille's role in supporting the first student film (at the University of Oregon), is in the syndicate financing stage with Slated.com.
As an author, Bryce has written a series of "what if" novels under the Breakpoint umbrella for Diversion Books (being simultaneously developed for television). His debut novel, Surrounded by Enemies: What if Kennedy Survived Dallas? won the 2014 Sidewise Award for Alternate History (previously won by Philip Roth and Michael Chabon). The next book, Once There Was a Way: What if The Beatles Stayed Together? has just been published and is being marketed nationwide. His speculative non-fiction book, A.D. After Disclosure: When the Government Finally Reveals the Truth About Alien Contact, recently received a fourth printing by Career Press and a national audiobook release.
In addition to the Emmy-winning Dark Skies (NBC), Bryce has received the WGA "created by" or "developed by" credit on Kay O'Brien (CBS), M.A.N.T.I.S. (FOX), The Crow: Stairway to Heaven (SYN) and E.N.G. (CTV). His other series work includes Steven Spielberg's Taken, L.A. Law, Life Goes On and Lois and Clark: The New Adventures of Superman.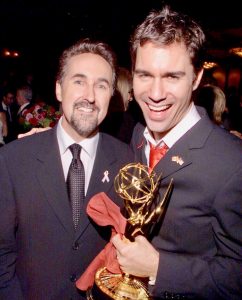 Bryce served as the elected chairman/CEO of the Academy of Television Arts & Sciences, the first writer in that position since Rod Serling. During his term, he was responsible for handling the post 9/11 Emmy awards, the negotiations that led to an unprecedented 250 percent license fee increase for the telecast, the move to the Nokia Theater at L.A. Live, and the creation of the Interactive Media and Stunt Performers peer groups.
As an adjunct professor for the prestigious USC School of Cinematic Arts since 2006, Bryce taught advanced television writing and series creation to both undergraduate and graduate students.
He has been an award-winning on-air journalist for PBS (investigative reporter), CNN (correspondent) and NBC (general assignment reporter). He is an active, dues-paying member of the WGA, DGA and SAG.
Besides his WGA, Gemini and Sidewise award wins, his work has also been nominated by the Environmental Media Association, Mystery Writers of America, Golden Mike and Emmy awards.
Bryce is an often-featured speaker, moderator, keynoter and panelist, invited to paid engagements in and out of the US. He has appeared on numerous TV and radio interviews that include The Today Show, CBS Morning News, Politically Incorrect, Entertainment Tonight, Access Hollywood, Extra and Coast-to-Coast AM as well as being interviewed by news organizations that include Time, The Washington Post, The New York Times, The Los Angeles Times, Daily Variety, Hollywood Reporter, etc.  His essays have been featured in Variety, The Los Angeles Times Magazine, Emmy magazine and LinkedIn Pulse. He has appeared three times on the primetime Emmy awards, introducing legends Tom Hanks and Walter Cronkite.
Bryce's social network "Klout" score has been as high as 66, defined as someone with "great content that spreads like wildfire," whose "opinions are wide-spread and highly trusted…regularly recognized as a leader" in the industry. A few years ago, Bryce and Jon Stewart were photobombed by Stephen Colbert at the Emmy awards, earning the Buzzfeed distinction of being one of its "Top Ten Photobombs."
He graduated from the University of Oregon with a degree in Broadcast Journalism.