YouTube Live Streamed Wednesday, April 25th at 8:00PM to 10:00PM EST (GMT-4)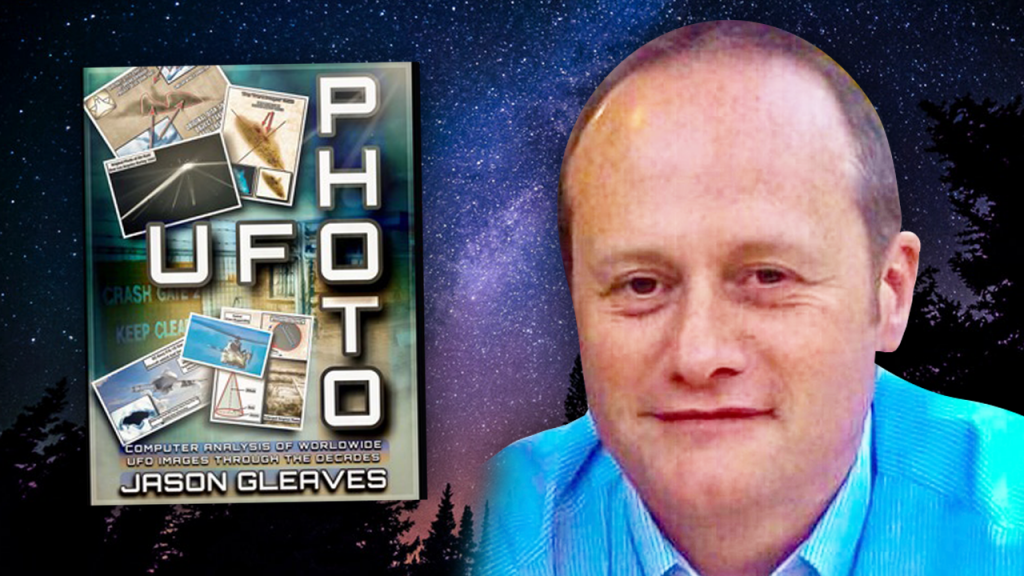 Jason Gleaves. (bio) I joined the Royal Air Force in 1986 at 17 years of age and completed my basic training at RAF Hereford, before continuing to RAF St Athens where I was completed my carpentry and joinery training (I was one of the last eight Carpenters to be trained by the Royal Air Force) I then had my first posting to RAF Cosford, where I was stationed until the RAF disbanded the carpentry trade and I remustered to Aircraft Finisher, I was then posted to RAF Honington (Strike command) and posted and detached to numerous bases in the U.K. (Valley, Coningsby, Marham, Brize Norton, Cosford and Sealand) and worked on the Battle Of Britain Memorial Flight (Lancaster Bomber/spitfire/hurricane) also detachments to Greenham Common, Warton and other bases and also being involved in Desert Storm and Bosnia conflicts during my military career until 1997.
The UFO sighting at RAF Cosford during March of 1993 is described in depth in my book 'UFO PHOTO' and gives first hand accounts of the on-duty Air Force personnel and the events which unfolded that late night at the Airfield Gate Guard Post, of a huge triangular shaped object described as being the size of a 'Battleship' which had been seen over numerous locations of the U.K. earlier that evening. After visiting RAF Cosford it then went onto visit another nearby Base (RAF Shawbury). All of these events are documented and are available to view.
The following day Nick Pope Ex-Ministry of Defense UFO desk became involved and gives his own personal account and explanation of what happened during the aftermath of this unexplained and intriguing encounter.
I have always had strange sightings throughout my life and military career and had my first UFO sighting when I was 7 years old with my sister near Aintree Race course, (home of the Grand National) Liverpool of a bright silver disk-shaped object which hung outside the window of the room we were playing in, it was motionless while we stared at it in amazement before disappearing at high velocity.
So I suppose that was where my interest in UFO's and unexplained phenomena came from and my researching bug evolved. UFO's were not really heard of then never mind talked about; I had so many questions but nobody to ask.
I have wrote for numerous UFO and media platforms which resulted in me forming my own UFO pages (Ufonly) which are on Facebook, Twitter, Google+ and Ufonly YouTube media. So I guess a natural progression to all that is writing this book.
Two of my favourite UFO photographs from the book would have to be 1) the civilian Argentine Pilots double buzz by two disk-shaped UFO's which passed in front of his aircraft dangerously close only to give him a second near miss pass in the opposite direction, he filmed all this on his mobile phone and you can see the full video and details on my pages 'Ufonly' if you wish.
The second case from the book I enjoyed analysing had to be the historical UFO event of the 'Battle over Los Angeles during 1942'. Witnessed by thousands of people and fired upon by the military, without any resulting effect to the UFO.
Upon analysing the images I was amazed at the high detail I gained from the enhancement methods applied.
To be honest I could have mentioned so many more UFO photographs and video footage I have enhanced and analysed over the years, to many to count. I hope to carry on researching and analysing images as technology and software can only improve.
Jason Gleaves, Ufonly.
UFO PHOTOS: COMPUTER ANALYSIS OF WORLDWIDE UFO IMAGES THROUGH THE DECADES by Jason Gleaves is out now on Amazon.
For further details please go to:
http://flyingdiskpress.blogspot.co.uk/