Show Notes for June 4th (Show 101)

Shows are recorded live on the Dark Matter Radio Network every Wednesday at 9:00 PM Eastern Standard Time, GMT/01:00 UTC and podcasts of the live shows posted the following Thursday. You can join the Chat Room on right sidebar of our home page and interact live each week.
SpaceX's New Manned Dragon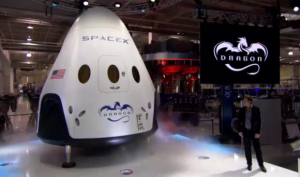 Billionaire entrepreneur and SpaceX CEO Elon Musk let the curtain to the future drop on Thursday, May 29 to reveal his company's new manned Dragon V2 astronaut transporter for all the world to see during a live streaming webcast direct from SpaceX's state-of-the-art design and manufacturing facility and Headquarters in Hawthorne, CA.
by Andy Fleming