Show Notes for June 11th (Show 102)

Shows are recorded live on the Dark Matter Radio Network every Wednesday at 9:00 PM Eastern Standard Time, GMT/01:00 UTC and podcasts of the live shows posted the following Thursday. You can join the Chat Room on right sidebar of our home page and interact live each week.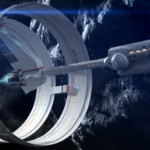 Dr. Harold "Sonny" White is still working on a warp drive at NASA's Johnson Space Center. His work is still in the experimental stage but that doesn't mean he can't imagine what the real life Enterprise ship would look like according to his math.
Concept 3D artist Mark Rademaker told io9 that "he worked with White to create the updated model, which includes a sleek ship nestled at the center of two enormous rings, which create the warp bubble."
http://sploid.gizmodo.com/holy-crap-nasas-interplanetary-spaceship-concept-is-fr-1589001939
We had a corrupt file for Andy Fleming's clip on Panspermia, it will air next week!