July 22nd, Show 160
Podcasts are recorded live on the Darkmatterdigitalnetwork.com as every Wednesday at 8:00PM to 10:00PM Eastern Standard Time, 1:00 – 3:00AM GMT/UTC. Listen live (live chat room available), or as a  ONE HOUR FREE PODCAST which will be posted every Thursday. Support us and listen to the ENTIRE show for as little as $2 per month! Easy one time sign-up, your personal link embeds to almost any media player, easy iPhone setup.
Live Show Call in 603-967-4030 0r Skype: martywillis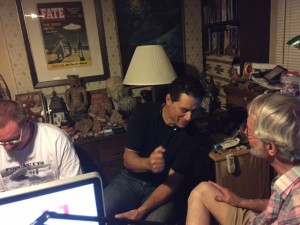 On location in College Park, MD with Ray Stanford, Ben Moss & Tony Angiola.
Ray Stanford literally wrote the book on the Socorro case (1976), and he is considering release of unpublished evidence on the case. Seeing part of it, one movie producer declared, "You've hit the ball right out of the ballpark. Ray!"
At age 77, Ray has 62 years of very active research into mysterious sky objects. He pioneered UFO optical and electronic recording, using film cameras and a recording magnetometer and gravimeter. His October 5, 1985 multi-witness, daylight filming provided a major aerospace engineering breakthrough, well-documented in X-DESCENDING! by Christopher Lambright.
Stanford and his project team report having daylight-filmed clear-domed objects with OCCUPANTS visible inside  —  several different types, in fact, and the show host will have seen the evidence before Wednesday night's broadcast.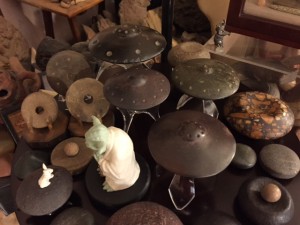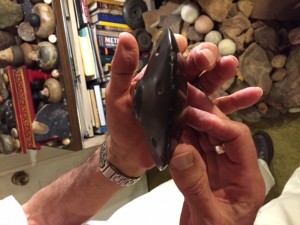 Ray Stanford is surely the only UFO researcher who has made multiple world-renown,scientifically published discoveries in dinosaur paleontology. His new dinosaur, Propanoplosaurus marylandicus, is on display  at the Smithsonian's National Museum of Natural History, beside a photo of Ray. It is the only nodosaur hatchling ever reported anywhere. Found within the Washington, D.C. beltway, Ray quips,"When I first spotted it, I had to look twice to be sure it wasn't a fossilized politician."
Our guest is also famous for discovering dinosaur footprints at the NASA Goddard Space Flight Center, which NASA had no idea were there, and which will go on display there later this year..