August 5th, Show 162
Podcasts are recorded live on the Darkmatterdigitalnetwork.com as every Wednesday at 8:00PM to 10:00PM Eastern Standard Time, 1:00 – 3:00AM GMT/UTC. Listen live (live chat room available), or as a  ONE HOUR FREE PODCAST which will be posted every Thursday. Support us and listen to the ENTIRE show for as little as $2 per month! Easy one time sign-up, your personal link embeds to almost any media player, easy iPhone setup.
For Hour 2 tonight, Live Show Call in 603-967-4030 0r Skype: martywillis
For Hour 2 tonight, Live Show Call in 603-967-4030 0r Skype: martywillis 
Similar UFOs Appear Over Japanese, U.S. Cities, Strange lights over Osaka and Milwaukee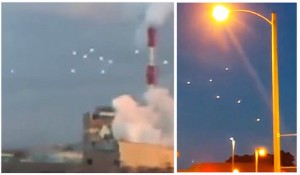 Two separate cases of unusual-looking lights — over cities on different continents — were captured on video, prompting speculation that the objects were everything from alien life forms to popular Chinese lanterns.
The composite image in our show notes shows the aerial anomalies over Osaka, Japan, (left) and Milwaukee, Wisconsin, (right) within days of each other.
The first event was videotaped and posted to Facebook by a Wisconsin police officer near Milwaukee on July 25. Officer Gustavo Rojas said he and his partner saw the lights slowly maneuvering around the sky, forming strange patterns before they eventually vanished.
http://www.huffingtonpost.com/entry/ufos-milwaukee-osaka_55bbc2ede4b0b23e3ce2b8c9
'UFO' watching Apollo landing?…even Nasa won't say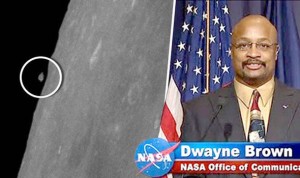 NASA has been unable to explain why a piece of the Moon appears to have broken off in one of its pictures taken during the Apollo 11 moon landing.
The odd spot was uploaded to YouTube by prolific alien chaser Streetcap 1, who thought the anomaly could be a UFO which was monitoring the moon landing.
It was then picked up by fellow UFO researcher, US-based Scott C Waring, editor of UFO Sightings Daily.
Mr Waring said: "This is a great photo of the moon in high quality.
"However there is one odd thing about it. A piece of it is breaking away."
He added: "It is possible that aliens have evolved so high, that living longer is the gold of their times. So to accomplish this, they create ships and buildings that blend into the environment. This could be a ship leaving the surface, and if astronomers see it moving through space, they will believe it to be an asteroid."
YouTube user Streetcap1 also said in the video it looked "like a piece of the moon is breaking away".
But regardless of the madcap explanations for what the mystery object is or the picture shows, NASA has so far been unable to explain it.
Express.co.uk investigated by looking at the original image in the archive, which featured the "breakaway piece" and at pictures taken JUST MOMENTS either side of it, which did not show the object.
http://www.express.co.uk/news/science/595989/Did-bit-of-Moon-break-off-or-was-UFO-watching-Apollo-landing-even-Nasa-won-t-say
10,000 year old cave paintings of UFO's and Aliens discovered in India – Ancient Code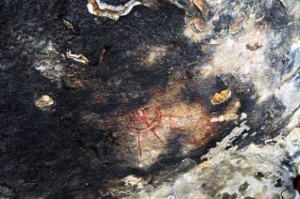 RESEARCHERS have confirmed a mysterious finding in India. The discovery of the 10.000 year old cave paintings depict several figures that seem to resemble otherworldly beings and disc-shaped objects.
The Department of Archaeology of the Indian state of Chhattisgarh seeks help from aerospace agencies in the United States and India to determine the nature of the images found in the tribal Bastar region. Experts are baffled by the great similarity between the images of the cave and characterizations of science fiction films that normally depict otherworldly beings and mysterious space ships. According to Indian experts, it's as if people, 10.000 year ago made these paintings while looking at science fiction movies.
Is it possible that people depicted 10.000 years ago what they really saw? The finding in India seems to resemble other cave paintings found across the globe. The cave paintings in the Chhattisgarh state are not an isolated event, but something that is seen across several ancient cultures.
According to local archaeologist JR Bhagat, this could actually mean that people, from time immemorial, saw beings that came to Earth from other planets. A detailed investigation is needed to fully understand the nature of these depictions. Our department has no experts in this field.
http://mindanaoexaminer.com/10000-year-old-cave-paintings-of-ufos-and-aliens-discovered-in-india-ancient-code/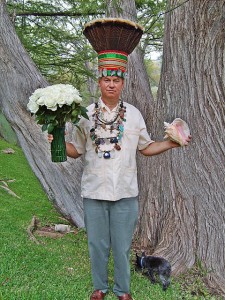 Richard Sauder was the first person systematically to popularize the mysterious topic of underground, and then underwater,  bases and tunnels by delving into the open literature of the government, military and industry paper trail. He is the author of several books, including:
– Hidden in Plain Sight: Beyond the X-Files, (2010), his most recent work on the secret world of underground bases and tunnels.
– Underwater and Underground Bases (2001), which expands the scope of his earlier work to include military plans for manned bases and tunnels beneath the seafloor.
– His first book, the underground bestseller (and  currently out-of-print) Underground Bases and Tunnels: What is the Government Trying to Hide? (1995), which represents his first work on the underground bases issue.