Enter An Exclusive Podcast UFO Contest!
We have a contest going on that will end Live on the New Year's Eve show. You can win a brand spanking new iPad mini or a Fun Swag Bag.
For your chance to win, please follow these three easy steps. You can use the iPhone app, or the website.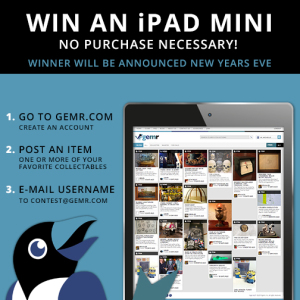 1) Go to gemr.com, create an account and log in
2) Post an item (one or more of your favorite collectibles)
3) E-mail your username to: contest@gemr.com with only your Username in the subject line.
The only way you can win is if you complete ALL 3 STEPS. We will draw 6 names out of a basket on New Years Eve and announce the winners of a new iPad Mini and 5 swag bags! Thank you for participating and good luck! Martin & the folks at Gemr.