by Martin Willis
Glowing Auras and Black Money Curse?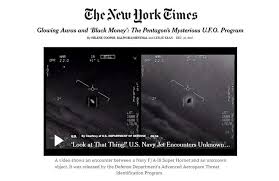 What is one to think when everything goes wrong with a most important interview?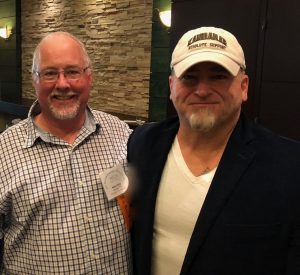 Lue, as he likes to be called, is a non-condescending, intelligent, easy going kind of guy. I had the pleasure of meeting him at the MUFON convention in Cherry Hill last summer. We ran into each other in the hallway at the hotel and started chatting. As we got into a nice talk, he asked me about my background (in fine art & antiques) and that led to so many great discussions about collecting all kinds of things. After about 30 minutes into our discussion, Jan Harzan came looking for him, and he had to go. I realized afterwards that UFOs had never come up at all, which I found humorous. That was last July and the last I had spoken to him.
Starting last early December, I began working with a publicist for the HISTORY Channel, Kirby Dixon and it has been a great experience. I felt lucky that I was granted conversations with Project Blue Book's creator, David O'Leary, and the two Hynek sons, Paul and Joel.
Kirby connected me more recently with Anthony Lappe', the Executive Producer from the new series, Unidentified: Inside America's UFO Investigation, which features Luis Elizondo and that was another wonderful conversation. She then contacted me a few days ago, asking if I wanted to interview Lue Elizondo, I told her without hesitation that I was in! I changed my schedule to make sure I would be home, had show  graphics created, and put some questions together for my interview. She told me to wait until she got the 100% go on it, and confirmed it on Thursday. I knew my good friend Alejandro Rojas was interviewing Lue on Friday as well, so I compared my questions with Alejandro's. By his request we wanted to make sure that there would be no or little redundancy. Alejandro and I wished each other good luck and did a virtual high-five.
I happily posted my YouTube live stream upcoming interview with Lue in my email newsletter, and all over the place. It was getting some real traction on social media, I was emailed potential questions from listeners everywhere. Needles to say, I got quite excited about the whole event.
Then, the unimaginable happens
While I was driving to a restaurant, a dreaded email popped up on my iPhone from Kirby: "Martin — I am so sorry, but it has just been brought to my attention from TTSA that Lue's schedule has drastically changed and he is, unfortunately, no longer available for this interview tomorrow. As a result, we will need to cancel this interview and possibly reschedule. Should his schedule change in the coming weeks, I will certainly let you know as relayed to me by the TTSA team." Read more →