by Martin Willis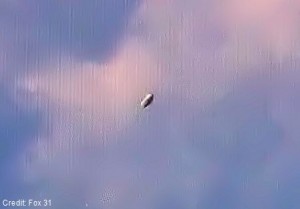 There is a buzz going around about Denver that you probably have heard, an anonymous person claims he is filming UFOs over Denver, and everybody is talking about it. He contacted a Fox 31 News reporter, brought the film in and showed her the footage.
Fox 31 then took their own cameraman to the area and filmed the same thing with the same results which all occurred between noon and 1 PM.
"That is not an airplane, that is not a helicopter, those are not birds… I can't identify it," aviation expert, FAA accident prevention counselor, and former pilot Steve Cowell told Fox 31. [sic]
Questions
Why would this gentleman be filming every day for months and what was he filming? Additionally, why would he slow down his film to look at it? Regardless, there is no question that the film does show something.  But is it an unidentified flying bug (UFB), or is it a UFO?