YouTube Live Streamed Wednesday December 20th at
 

7:30PM to 10:00PM EST (GMT-5)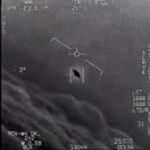 Alejandro Rojas & Martin Willis start a half hour early to cover what has happened since the NY Times published the article: 'Glowing Auras and 'Black Money': The Pentagon's Mysterious U.F.O. Program' on December 16th. Will this shift the UFO paradigm? Then guest Peter Davenport will discuss some recent interesting sightings that spanned the US.
Bio: Peter B. Davenport, Director of the National UFO Reporting Center: http://www.nuforc.org since July 1994. He was born in St. Louis, Missouri, where he lived to the age of 14. As a boy, he attended high school in St. Louis, Ethiopia, and New Hampshire.
Peter received his undergraduate education at Stanford University in California, where he earned bachelor's degrees in both Russian and biology, and a translator's certificate in Russian.
His graduate education was completed at the University of Washington in Seattle, where he earned an M.S. degree in the genetics and biochemistry of fish from the College of Fisheries, as well as an M.B.A. degree in finance and international business from the Graduate School of Business.