UFOs have such a mystique about them, and it is amazing that sixty years can pass since some part of our government has had at least some knowledge of what these things are. I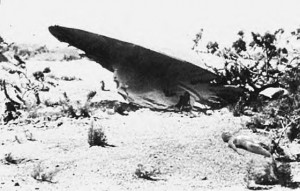 am talking about the crash at Roswell of course.
One can only speculate how much was learned from that particular incident. They may have learned only that they were not of this world, and tried to reverse engineer what was left of that flying saucer. There is speculation that there has been more than one crash, yet who knows what was left of any of those crashes, if they existed at all.
There is so much we don't know, but has anyone considered that there is a chance that the part of the government (i.e. CIA/NSA) that knows something, may know very little and not everything? They may know only a tiny part of the whole picture. I do believe that they are concerned overall with national security. How could they not be when there is factual evidence that nuclear warheads have been tampered with during sightings over silos? The consensus is generally that aliens are benevolent, otherwise with their superior and advanced technology; they could wipe us out in a flash. Getting back to missile tampering, to me, it almost seems like some type of message to us. Perhaps a call to eliminate our warheads altogether.