Show Notes, 117. Dr. Bruce Maccabee, September 24th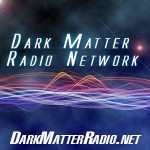 Shows are recorded live on the Dark Matter Radio Network every Wednesday at 9:00 PM Eastern Standard Time, GMT/01:00 UTC and podcasts of the live shows posted the following day, Thursday. You can join the Chat Room on right sidebar of our home page and interact live each week.
News with Alejandro Rojas
NSA Looses UFO Documents?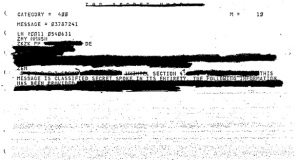 UFO and government secrecy researcher John Greenewald has been petitioning to get the National Security Agency (NSA) UFO files that were released in the 90s further declassified. When they were released, after a legal battle, much of the information was redacted. There are large swaths of information that have been blacked out or covered with white out. However, the NSA recently told Greenewald they could not find even one original of the hundreds of pages UFO files. Continue reading below….
http://www.openminds.tv/nsa-says-lost-non-redacted-ufo-files/29986
Movie To Be Filmed on Abductions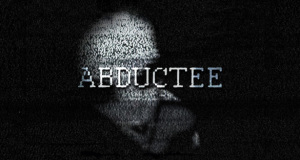 Filming for Abductee , a found-footage thriller about alien abduction, will soon be underway, but the movie's producer says it "is more than just a film; it is a social movement."
In their press release, the movie's production company, Collective Minds Media, writes that they are not only beginning production on an alien abduction movie, but also developing an abductee support community. Continue reading below….
http://www.openminds.tv/alien-abduction-thriller-seeks-bring-topic-forefront/30021
Multiple witnesses allegedly observed a UFO over the Hampshire city of Portsmouth in England.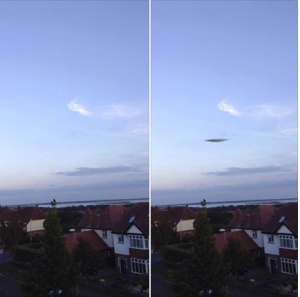 Several people began posting sighting claims on Twitter beginning on Tuesday, September 16. Witnesses described seeing a fast moving, grey, disc-like object. One witness, Lewis Rogers, claimed he saw the strange object on Wednesday, September 17, and he posted a photo of the UFO to Twitter. Continue reading below….
http://www.openminds.tv/questionable-portsmouth-ufo-ignites-media-frenzy/30085
Guest Dr Bruce Maccabee
We discuss his recent book release.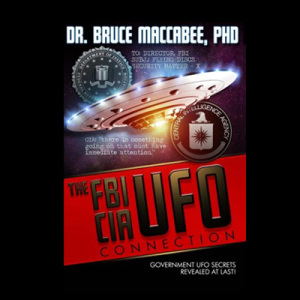 Bruce S. Maccabee, Ph,D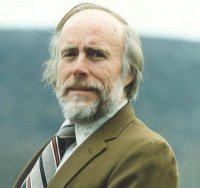 Bruce spent his early year in Rutland, Vt. After high school he studied physics at Worcester Polytechnic Institute in Worcester, Mass (B.S. in physics) and then at The American University, Washington, DC (M.S. and Ph. D. in physics). In 1972 commenced his long career at the Naval Surface Warfare Center, presently headquartered at Dahlgren, Virginia. He has worked on optical data processing, generation of underwater sound with lasers and various aspects of the Strategic Defense Initiative (SDI) and Ballistic Missile Defense (BMD) using high power lasers. Bruce Maccabee has been active in UFO research since late 1960s when he joined the National Investigations Committee on Aerial Phenomena (NICAP) and was active in research and investigation for NICAP until its demise in 1980. He became a member of MUFON in 1975 and was subequently appointed to the position of state Director for Maryland, a position he still holds. In 1979 he was instrumental in establishing the Fund for UFO Research and was the chairman for the about 13 years. He presently serves on the National Board of the Fund. Read more.

____________________________________________________________________
The Latest Blogs
1941 Cape Girardeau, Missouri UFO Crash
Guest blog
In 1941, 7 years before the Roswell, New Mexico Crash in 1947, a similar UFO incident happened in the woods outside of Cape Girardeau, Missouri.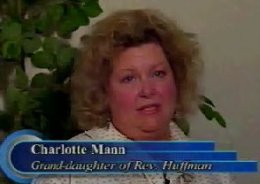 A story told by a woman named Charlette Mann reveals a long family secret of an alien encounter and mysterious UFO crash. The story was about Charlette's grandfather Reverend William Huffman. Huffman was the pastor of the Red Star Baptist Church.
According to her grandmother's deathbed confession, her grandfather was summoned around 9-10 PM to pray over victims of a wreckage in the woods outside town. Reverend Huffman is taken on a 10-15 mile trip and arrived at the scene which appeared to be a plane crash site already surrounded by policemen, fire department personnel, FBI agents, photographers and Military.
He was shocked to see not an airplane crash, but a scene of a strange disc-shaped object with strange markings that looked like hieroglyphic-like writings that he could not understand.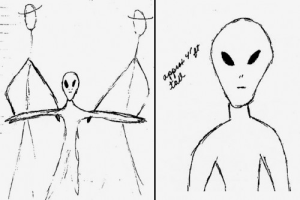 Even stranger were the bodies of small humanoids of very large heads and large black shiny eyes. Nearly visible ears and mouths and totally without hair. Reverend Huffman was soon asked to come and pray over the dead bodies at the scene. After performing his Christian duties, a military personnel at the scene made Huffman swore into secrecy whatever he found out during that night. But Huffman could not hide the strange and baffling scene that he saw from his wife. The secret was kept by the family until Charlette's grandmother told the story to her in 1984 as she was dying of cancer.
The seemingly Sci-Fi script UFO case was brought to public by Leo Stringfield in his book, "UFO Crash/Retrievals: The Inner Sanctum" with all the details of the Crash that Charlette gave him. Charlette believed that the story was authentic but still more details would be needed to put the UFO crash of Cape Girardeau in the authentic category.
http://www.latest-ufo-sightings.net
Will Our Fate Be That of the Dinosaurs?
February 20, 2014
by Andy Fleming  
In the 1970s Walter Alvarez, a professor in the Earth and Planetary Science department at the University of California, Berkeley started to form a hypothesis connecting an asteroid impact, the presence of its global Iridium layer in the rock strata, and the loss of the dinosaurs in what has become known as the Cretaceous–Tertiary (or K-T) mass extinction event.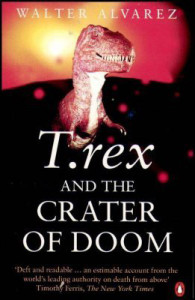 Verified by geological dating, the location of the asteroid's impact crater was eventually discovered at Chicxulub, in the Yucatán Peninsula. The now confirmed scientific theory made truly shocking reading. It stated that 66 million years ago, our planet was hit by a space rock 10kms in diameter traveling at 40,000kph. Taking two seconds to traverse the atmosphere it buried itself kilometres deep in the Earth's crust, with resultant molten ejecta traversing the entire globe. Worldwide cataclysmic fires created dense and choking dust and smoke that blocked out most sunlight for years. Temperatures plummeted, and 75% of all species on Earth, including dinosaurs became extinct. In this epic catastrophe, small dinosaurs capable of flight survived to become modern day birds. Tiny underground shrew-like animals that lived on roots also survived.
In terms of longevity of their reign of over 150 million years, the dinosaurs are to this day the most successful creatures ever to walk the Earth. Their sudden demise however, ushered in the age of the mammals that would one day evolve into us. Without the Chicxulub impact, debatably the most intelligent species ever seen on Earth i.e. 'us' simply wouldn't exist. Mammals truly did inherit the Earth.
by Michael Lauck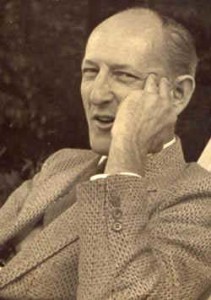 Well known in the UFO community as an author and as the director of NICAP, Major Donald Keyhoe was a Marine pilot and established author well before the flying saucer craze of the late 1940s. He authored several books on unidentified flying objects, including the classic Flying Saucers Are Real. Although his experience in the aviation field and Pentagon contacts gave him a certain amount of authority, his detractors pointed to some of his other writings to discredit his work.
by Michael Lauck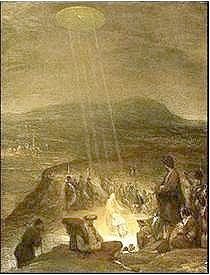 Faith is an integral part of daily life. Although the word is commonly used in regards to religion, faith is not exclusively connected to one's religious belief. The Merriam-Webster Dictionary website does offer both "belief in the existence of God" and "a system of religious beliefs" as definitions for faith but the very first definition is merely "strong belief or trust in someone or something." When one uses this definition, it is easy to find examples of faith in daily life. Most people, for example, start their day thanks to the faith they have placed in an alarm clock.
by Michael Lauck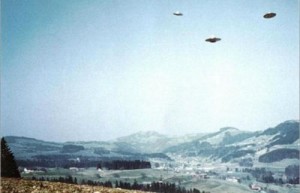 Why would an extraterrestrial civilization come here of all places in the universe? This is a commonly asked question by the UFO skeptics and debunkers. Personally, I think this is a rather unimportant question. I really honestly do not expect to understand the motivations of an alien species. Some may consider this taking the easy way out, but our own history is full of examples where cultures misunderstand each other's motivations and desires. If American Indians did not understand what drove the Europeans, how are we to understand the thought process of an entirely different life form? As of this week, though, the question can be laid to rest.
by Michael Lauck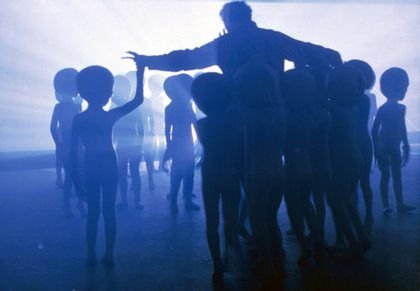 One of the common arguments used by skeptics and debunkers is that UFO witnesses are actually inserting pop culture imagery into their memories or interpretations of an event. For example, they will state that abductees see "Greys" because the Grey alien archetype was prominently featured on book covers and in the movie Close Encounters of the Third Kind. Of course this argument completely (and conveniently) overlooks the fact that the creatures depicted on these book covers and in the film were based on descriptions of experiencers who had not seen the movie or books. Nonetheless, the argument is still put forth confidently and is often not even questioned. How can this assertion be derailed?